Agency & Client
Allan Chan
Chuan Wines
Role
Creative Direction
Art Direction
Design
Illustration
Retouching
Scope
Brand Identity
Packaging Design
Stationery Design
The perfect
blend of
flavours.
Traditional single-vineyard, dry grown, unfiltered wines from the Yarra Valley. The brand direction for Chuan Wines was to fuse the increasing multiculturalism in Asia and the growing interest in imported wines from Australia, whilst still retaining the heritage of the Chinese winemaker. 
The Chuan Wines concept for the packaging design was to use Chinese calligraphy and the zodiac animals for each year for the different blends.
In my preferred concept, the style was heavily based around Chinese paintings and the water colour brush stroke technique that they are famous for, using this style for all the elements logo, animal and typography. 
"WOW! I am very impressed and
happy with your concepts. The concept overall is brilliant!".
Han Tao Lau
Winemaker, Chuan Wines
With the focus however on exporting to Hong Kong, China, Singapore, Taiwan, and wanting to differentiate the designs from theses markets, my alternate creative showed a more modern execution for both the brand and animal illustrations.
The use of sharp and clean vectorised lines with hints of the painted texture, made the illustrations appear more westernised, whilst keeping the calligraphy in the Chinese character, which enabled both elements to shine, and made if more obvious that the wine was from a western country.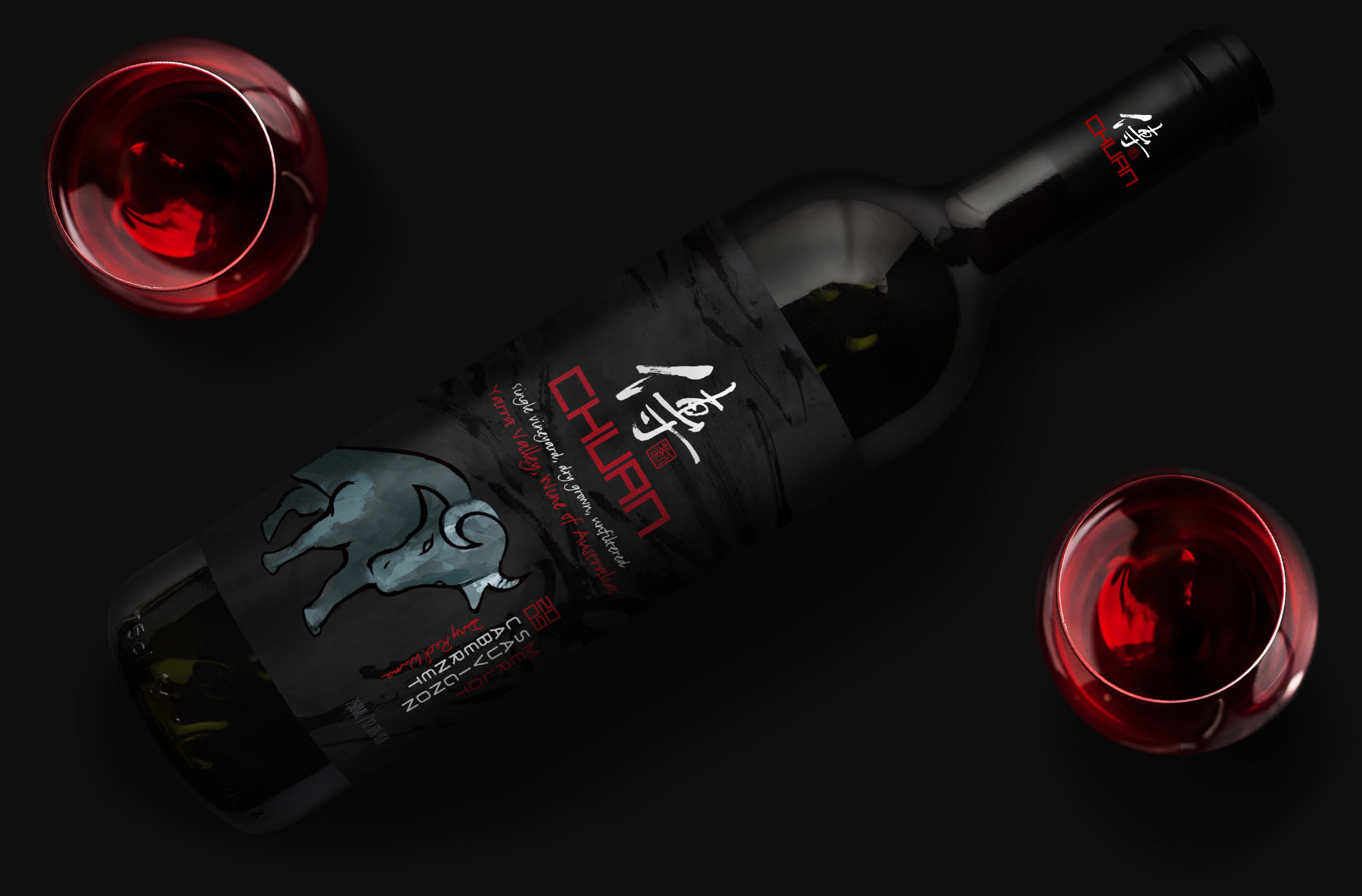 "I also really like the colour and texturing of the ox on the black label – it has a really "antique" tone to it, like the green you get from ancient, oxidised brass and bronze. In terms of being striking and having impact, I think the ox and logos are brilliant".
Han Tao Lau
Winemaker, Chuan Wines
"I like the way the tiger is prowling and the calm look on the tiger's face. It captures the sleek, elegant, feline qualities, and the hidden power of a tiger stalking its prey".
Han Tao Lau
Winemaker, Chuan Wines
"The style is like old-school Chinese picture books for kids, and the rabbit looks very energetic and I like the sparkly eyes – there's a lot of life in it's expression".
Han Tao Lau
Winemaker, Chuan Wines